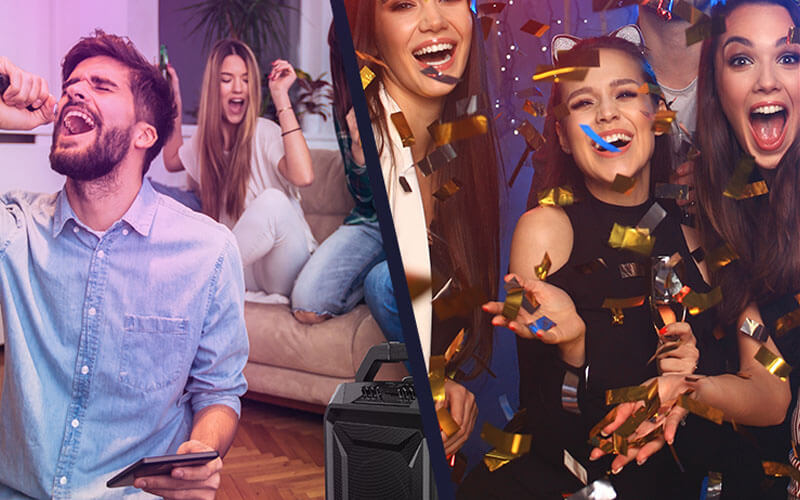 Are you looking for a way to enjoy karaoke in the convenience of your own home with family and friends? Imagine having a portable karaoke and get a singing party started anytime! In the house, campsite, vacation home, or in a party venue. As long as you have cellular data and access to the internet, it's easy to set up your own portable karaoke party.
1. Install soundproofing
Unless you want your whole house to fill up with songs every time someone is using the karaoke room, you probably will want to install soundproofing on the walls. You can head to your local hardware store and choose foam insulation panels or go to an electronics store to buy special acoustic panels that will improve the sound quality in the room and muffle the sound outside.


2. Karaoke system
A karaoke system revolves around having a karaoke player, mixer, speaker, amplifier, and touch screen. You'll need a place to mount the screen so the singer can view it without any problems. The mixer can be set up anywhere that is convenient for the DJ to control it, while the amplifier and speakers should be arranged around the room in places where they will provide optimal acoustics. Many of these systems can be purchased as all-in-one packages.
If you think it is too troublesome to buy a complete set of karaoke equipment, you can consider our
bomaker PA01 System
. Built-in advanced 5.0 Bluetooth, sound spreading more space and no delay.
3. Buy accessories
In terms of accessories, you're going to want the same materials they have at karaoke bars. You'll want a long microphone cord and a high-quality microphone, as well as an additional microphone and cable to provide the option of singing duets. You should also consider what variety of songs you'd like to have when purchasing software or additional packages to add to your karaoke system.
4. Snacks and refreshments
Add to the party by having a fully stocked snack and refreshment area in your karaoke room so that you don't have to run back and forth to the kitchen when you want a soda or beer. You can install a mini-fridge for cold drinks, cheeses, and dips, and a small cabinet to keep chips, cookies, and other snacks to serve while you're entertaining.
Building a karaoke room at home is easy and doesn't require too much set-up. Set aside space in your home for one so that you can entertain friends whenever you like.