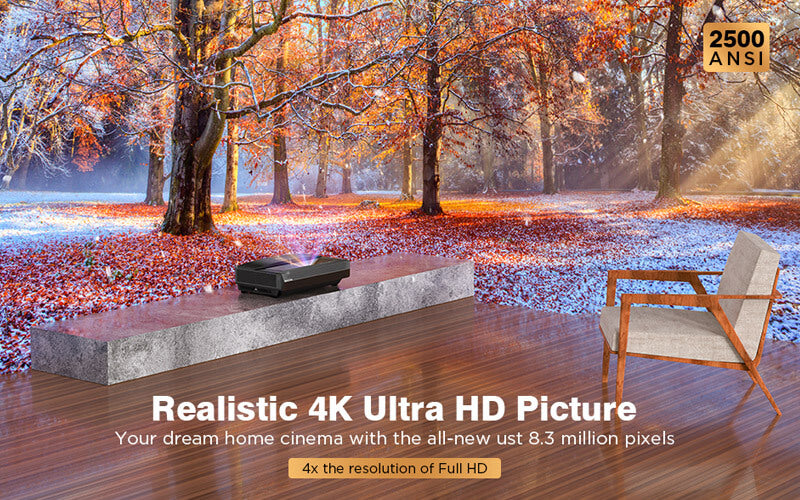 If the term "short-distance beamer" does not mean anything to you yet, here is a short explanation. As the name already suggests, the beamer stands in a very short distance in front of the screen – sometimes less than 20 cm away. The image is not beamed forward, but diagonally upwards. The size of the projection is nevertheless at least 80 inches; if the beamer is only moved a little to the back, up to 150 inches and more are possible.
Since the projector doesn't have to stand in the middle of the room, it doesn't take up much space. A wide, low sideboard in front of an empty wall is actually sufficient. For occasional use, you don't even necessarily need a screen; a smooth, white or light gray wall is also sufficient. But the latter is true for most beamers, and if you want to enjoy the picture completely, you still can't avoid a screen.
The Polaris 4K is just such a beamer. The maximum possible image diagonal is given by the manufacturer Bomaker even with 200 inches. That would be a five meter picture. Usually, the apartment is more likely to reach its limits (literally) than the beamer. The resolution is native 4K, which looks even better in the corresponding size. According to the manufacturer, the beamer reaches a size of 150 inches at a distance of 53 cm from the (screen) wall.
It has a brightness of 2500 ANSI lumens, a contrast of 2000:1 and supports HDR 10, MEMC, Dolby and DTS. The built-in LEDs have a lifetime of up to 30.000 hours.Please refer to the table below for detailed parameters
| | |
| --- | --- |
| Model | Bomaker Polaris 4K |
| Type | DLP |
| Resolution | 4K (3840 x 2160p) |
| Image formats | 16:9 |
| max. image diagonal | up to 200″ (~5 m) |
| Brightness | 2500 ANSI Lumen |
| Power consumption | 185 W |
| Connections | 1 x HDMI 2.0, 2 x USB 3.0, Ethernet |
| Dimensions | 520 × 331 × 152 mm |
| Weight | 9,2 kg |
And Bomaker Polaris 4K Ultra Short Throw Laser TV is now officially on sale.Select Bomaker 100 inch Wireless Electric Projector Screen  "Add to Cart" to apply promo code Projector Screenand you will get 1 free projector Screen when you purchase 4k laser TV.Click on the following link to learn more:http://bit.ly/Polaris4KTV