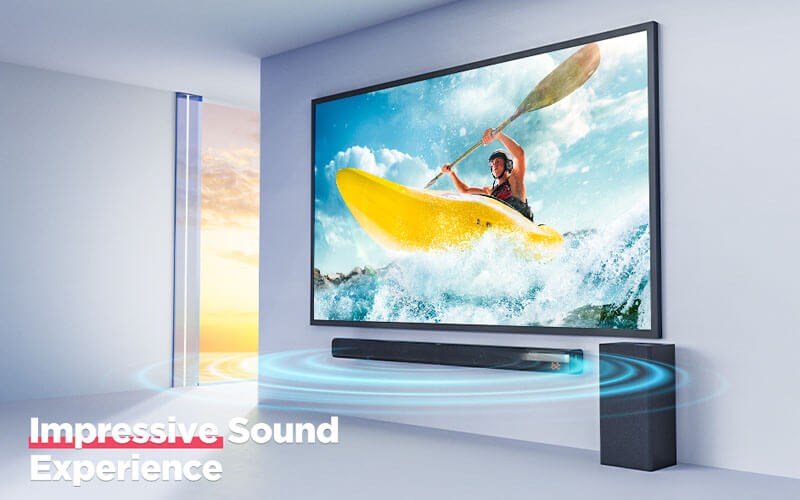 Movies, TV shows, sporting events and music are all a touch more exciting when you're watching or listening somewhere with a high-quality audio system . You don't need a sophisticated setup to enhance the sound of your favorite programming. With an easy-to-install soundbar, you'll upgrade your television's audio quality in minutes.
Use this guide to find out the way to choose a soundbar for your home entertainment.
What is a Soundbar?
Modern televisions are thin and comparatively lightweight. While this is often great for saving space in your home, it's not so good for sound quality. After all, small speakers – like those in your telephone – produce small sounds. They simply aren't capable of the large , booming, and crisp audio you get from dedicated speakers.

A soundbar is an all-in-one speaker solution designed to be paired together with your television. Soundbars are typically mounted right below the TV. Many models can rest on a shelf or on top of a cupboard placed below your television also.
How to Choose?
With a spread of soundbars and sound bases on the market, it is often hard to select the one that's right for your needs. However, there are a couple of basic guidelines which will assist you to get the model that's getting to work best for you. Here are a couple of tips to assist you to select the soundbar or sound base which will offer you a far better at-home audio experience:

BUDGET
Soundbars and sound bases are available during a sort of price range, from cost-effective options to models that charge a premium for performance.Having a budget in mind can assist you to narrow down soundbars and sound bases.


LOCATION
Soundbars mounted below your TV or placed on a shelf generally shouldn't be wider than your TV.A sound base will work best if centered beneath your television.Find the perfect space and measure properly to settle on the right soundbar or sound base size.


CHANNELS
Soundbars and sound bases with three or more channels can simulate surround sound, which is right for movies and even some sporting events.These multi-channel models also convert to stereo for taking note of music.If your budget allows, a minimum three-channel soundbar or sound base is best.


CONNECTIVITY
An active soundbar or sound base features a built-in amplifier, meaning you won't need an external option. which will help save space and make sure that the amplifier is correctly matched to the soundbar or sound base speakers, providing better overall performance.

Additionally, most soundbars and sound bases connect via HDMI, which carries both audio and video. While this is often typically the simplest high quality connection, other options could also be required if you're using an older TV. Some soundbars and sound bases have a separate wired or wireless connection for an external subwoofer.

Many soundbars and sound bases also feature Wi-Fi and Bluetooth connectivity so you'll quickly and simply pair your computer, phone, or tablet. albeit you don't plan on using these features a day, they'll provide more long-term flexibility for your audio and video setup.


SMART HOME INTEGRATION
Some soundbars and sound bases will add conjunction with a sensible home system, allowing you to regulate your audio from multiple points within your house.If you've got a sensible home system in situ and need to use your soundbar or sound base in this manner, you'll get to confirm it's compatible before you purchase.
Soundbars and sound bases can make watching TV, movies, and sports reception more enjoyable. They'll also improve the sound quality of music in comparison with the speakers on your television. Shop the Bomaker today for a variety of soundbars and sound bases to suit your needs.